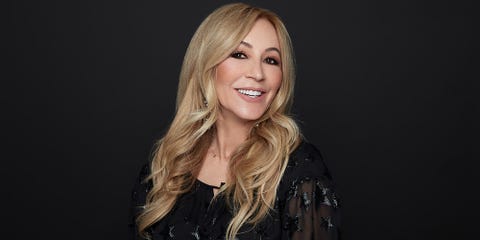 A true American success story, Anastasia Soare – a Romanian immigrant – has built an empire over the last 20 years "one eyebrow at a time", she tells us.
Her clients we might know of? Since we're in London, (Soare is here to celebrate the brand's launch into Selfridges), she starts with the British ones. "Victoria Beckham, Naomi Campbell, Amal Clooney," the entrepreneur counts – and then of course there's "Oprah Winfrey, Jennifer Lopez, Kendall Jenner, all the Kardashians" in the States. Yeah, we've heard of them.
Her namesake brand all began with a Beverly Hills salon in 1997, an area she decided to focus on because she identified that "nobody in Hollywood did eyebrows in the '90s". There were no brow-specific make-up products, either. Hard to imagine now.
After art school Soare studied construction architecture for five years. "You had to train your eyes to see in 3D," she explains of the schooling. All of which fed into her (now patented) Golden Ratio Eyebrow Shaping Method, inspired by a theory documented by the likes of Leonardo Da Vinci and Albert Einstein that claims to hold the key to finding balance and symmetry.
This geometry is applied to her brow shaping in salons, and to all the cosmetic products within the Anastasia Beverly Hills brand, from the company's first product line launched in 2000 to the ever-expanding color cosmetics collection born in 2014.
Read more at….
The self-made billionaire behind Amal Clooney, Jennifer Lopez and Michelle Obama's brows