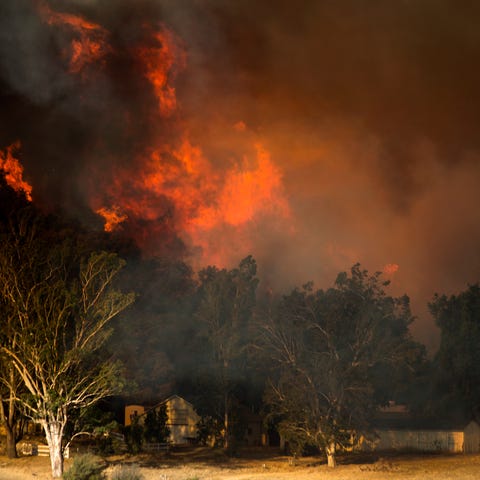 Though it has been over 17 hours since this story was published, these are the homes that were affected then. We will try to find the newest reports when they become available. After starting the post, we noticed the only celebrities that Cosmopolitan are really reporting are Kardashian's. While we are glad they are safe, THERE are more people than just KARDASHIANS in Hollywood people!
The sprawling California wildfire, now being dubbed 'the Woolsey fire,' has reached Malibu, Calabasas, and Agoura, and forced many to evacuate the area. Here are the celebrity homes and famous residences that have been affected by the fire so far:
The Bachelor Mansion
Entertainment Tonight reports that the mansion used to film the TV series was on fire yesterday afternoon and partially burned down. Thankfully, the current cast was not in the mansion at the time, as they were filming abroad.
Caitlyn Jenner's Home
Caitlyn Jenner's Malibu residence sadly burned down yesterday, though both she and friend Sophia Hutchins confirmed via Instagram that they—and their dogs—are safe.
Khloé Kardashian's Home
Khloé Kardashian evacuated her home with her daughter True yesterday, and has been staying with brother Rob Kardashian. She also posted some scary images of the fire:
Kim Kardashian and Kanye West's Home
Kim Kardashian and her family evacuated their Hidden Hills home yesterday and had only one hour to pack their things. Kim instagrammed a photo with Khloé's daughter True last night with the caption, "We are all safe and that's all that matters."
Lady Gaga's Home
Lady Gaga also evacuated her Malibu mansion on Friday morning, and tweeted an emotional message, saying, "I am thinking so deeply for everyone who is suffering today from these abominable fires & grieving the loss of their homes or loved ones. I'm sitting here with many of you wondering if my home will burst into flames. All we can do is pray together & for each other. God Bless You."
Orlando Bloom's Home
Orlando posted a picture of his street, which looks very close to the flames, with the caption: "this is my street as of two hours ago praying for the safety of all my malibu fam, grateful to our brave firefighters please stay safe 🙏🏼"
The West World Set
TMZ reports that one of the main filming locations for the HBO show West World has burned down, and "destroyed all the buildings on set."
Kylie Jenner's Home
Kylie Jenner has been on tour with boyfriend Travis Scott in Baltimore, but she took to Instagram stories yesterday to share that the fire was close to her house, and that she's "hoping for the best."
Gigi and Bella Hadid's Childhood Home
It is still not clear whether or not Gigi and Bella's mother's house is safe from the fire, but Bella is clearly quite upset, and has been instagramming about all of the places from her childhood that have burned down:

Read more at….
Here Are the Celebrity Homes Affected by the Massive California Wildfires