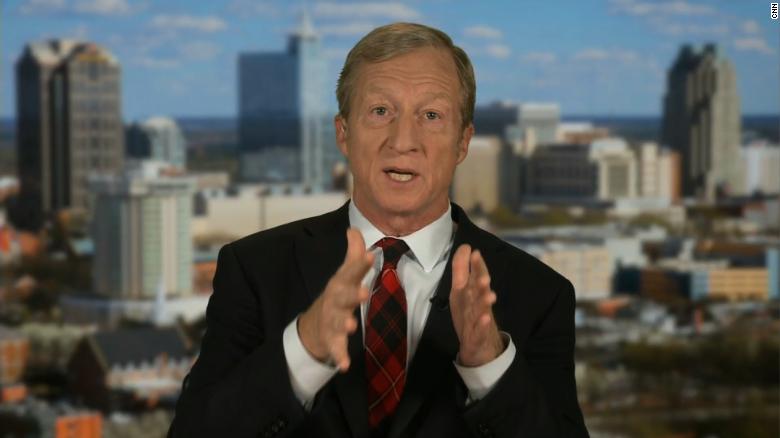 Former New York Mayor Michael Bloomberg. Starbucks ex-chief executive Howard Schultz. San Francisco hedge-fund founder Tom Steyer.
Less than a decade after Democrats successfully painted Republican presidential nominee Mitt Romney as a multimillionaire too out of touch to be president, their party could wind up playing host to a battle of the billionaires in 2020.
And after two of them, Bloomberg and Steyer, each plowed more than $100 million into this week's midterm elections to help Democrats successfully seize the House majority, some Democrats seem willing to listen to what they have to say.
"I don't think it's going to be a big negative," Jeff Link, a veteran Democratic strategist in Iowa, said of a billionaire potentially seeking the nomination. "Everything changed after 2016 because of Trump."
Romney ran for president in the wake of the 2008 financial crash, when his wealth — which came from his auto-executive father as well as his own work as a principal at private equity firm Bain Capital — spawned endless commentary about the car elevator he planned to install at his California beach house.
Those days are done. Romney was elected to the US Senate from Utah this week, but the real action was on the Democratic side, where a self-funding billionaire made history: J.B. Pritzker, an heir to the Hyatt hotel chain fortune, won the Illinois governor's race after spending more than $170 million to unseat Republican Gov. Bruce Rauner, a private equity mogul. Pritzker broke the previous self-funding record set in 2010 by tech executive Meg Whitman, a Republican who pumped $144 million into her failed gubernatorial bid in California.
Another Democrat, wine magnate David Trone, captured a US House seat in DC's Maryland suburbs this week after plowing nearly $16 million of his own money into the race.
Read more starting at
'Building political operations'
at….
Billionaires helped Democrats win. Do they stand a chance in 2020?