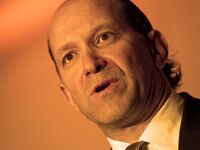 It has been seventeen 9/11s since Howard Lutnick watched the Twin Towers fall. Grief has mellowed. Old recriminations have quieted.
And, with time, the tragic story of his firm, Cantor Fitzgerald LP, has begun to recede in the national memory. Lutnick can never forget: 2 of every 3 people who worked for him in New York, 658 in all, died when American Airlines Flight 11 struck One World Trade Center. His brother Gary was among the dead. Cantor, it seemed, was finished.
The famously sharp-elbowed Lutnick — his firm has been sued for, among other things,
unfair dismissal
and
broker-poaching
— found an unlikely partner in Anshu Jain, the former
Deutsche Bank AG
co-chief executive officer. The two have been courting sovereign wealth funds around the world to help finance Cantor's push into investment banking and the highly levered world of prime brokerage, financing smaller hedge funds that the biggest banks are reluctant to take on.
Yet today, at 57, Lutnick is the improbable face of one of the greatest comebacks in Wall Street history. He hasn't simply rebuilt Cantor. He's become a billionaire in the process and is spending hundreds of millions of his own dollars to push into new businesses and set the firm on an ambitious course: to become, in his words, "the biggest little guy" in the business.
Read more at…
Howard Lutnick, Now a Billionaire, Bets Own Fortune on Bold Growth Plan