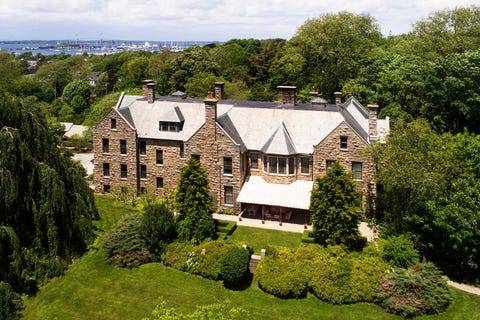 Of all the superb houses Newport grand dame Eileen Slocum occupied before her death ten years ago, the most important to her role and image as a formidable social leader was 459 Bellevue Avenue. It was built for her uncle and aunt, Harold and Georgette Wetmore Brown, in 1894; the austere granite exterior of the baronial structure designed by local practitioner Dudley Newton.
An interior décor of opulent dissonance, was devised for the home by Ogden Codman. An exceptional architect, Codman was Edith Wharton's dearest friend and together they co-wrote the best seller, The Decoration of Houses. Along with his personally designed pieces, all the contents in Slocum's house were considered the finest merchandise obtainable; all custom made or supplied by prestige firms like Tiffany & Co., Wedgwood, Cartier, and Waterford.
Understandably then, the auction of her marvelous possessions on Saturday, September 22 by Nadeau's Auction Gallery was a six hour marathon. For America's most elite community, where only one other house remains in the possession of the family that originally built it in the late 19th century, it was an event of a kind that occurs only once in a lifetime.
The sale's variety included gold hat pins, porcelain services for 20, 30 or 40 and their remnants, antique textiles, festooned finger bowls, fine furniture, and examples of every sort of object possible to craft from sterling silver. In this last category were 18 Chinese export silver place card holders, designed as spider's webs. While a set of six ravishing Louis XVI style gilded chairs, upholstered in cherry-colored silk, realized a mere $700 these objects of esoteric arcana were hammered in at a whopping $7,000.
Read more at….
Inside the Auction of Eileen Slocum's Astounding Newport Mansion