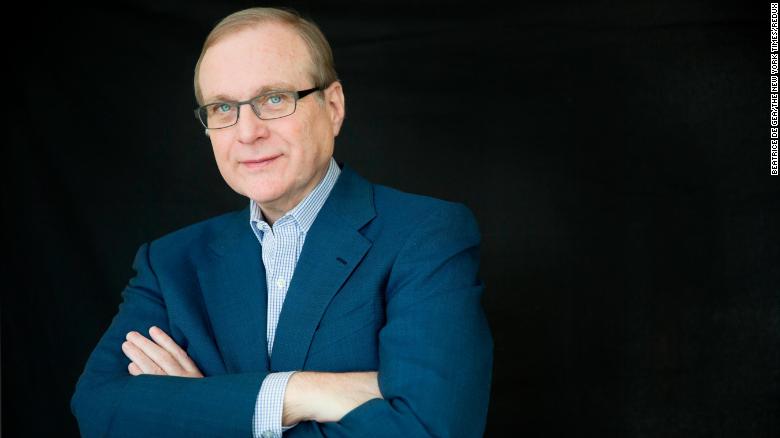 New York (CNN Business)Microsoft co-founder Paul Allen has died, his investment firm Vulcan said Monday. He was 65.
"It is with deep sadness that we announce the death of our founder Paul G. Allen, co-founder of
Microsoft
and noted technologist, philanthropist, community builder, conservationist, musician and supporter of the arts," Vulcan
said in a statement
.
Allen died in Seattle from complications related to non-Hodgkin's lymphoma. He had just announced two weeks ago that he was being treated for the disease.
Allen also owned two professional sports teams, NFL's Seattle Seahawks and the NBA's Portland Trail Blazers.
"My brother was a remarkable individual on every level," Allen's sister, Jody Allen, said in a statement on behalf of his family. "He was a much loved brother and uncle, and an exceptional friend. "
Allen was treated for the cancer in 2009, and had been in remission. Two weeks ago, he said he planned "on fighting this aggressively" while continuing to work on his various projects and his sports teams.
Allen founded Microsoft with
Bill Gates
in 1975 and left in 1983, when he was treated for Hodgkin's lymphoma.
Paul Allen gave more than $2 billion towards the advancement of science, technology, education, wildlife conservation, the arts and community services in his lifetime. The Paul G. Allen Family Foundation was established to administer a portion of Allen's philanthropic contributions. Since its formation, the foundation has given more than $494 million to over 1,500 nonprofits and in 2010, Allen became a signatory of The Giving Pledge, promising to give at least half of his fortune to philanthropic causes. Allen has received commendations for his philanthropic commitments including the
Andrew Carnegie Medal of Philanthropy
and Inside Philanthropy's "Philanthropist of the Year."
Allen never married and had no children. He was, at times, considered reclusive.
Allen also owned
Tatoosh,
which is one of the
world's 100 largest yachts
. In January 2016, it was reported that
Tatoosh
allegedly damaged coral in the
Cayman Islands
.
In April 2016, the Department of Environment (DoE) and Allen's Vulcan Inc. successfully completed a restoration plan to help speed recovery and protect the future of coral in this area.
Non-Hodgkin's lymphoma, like the less-common Hodgkin's disease, is a cancer of the lymphatic system.
Our condolences go out to his family.
This is a developing story.