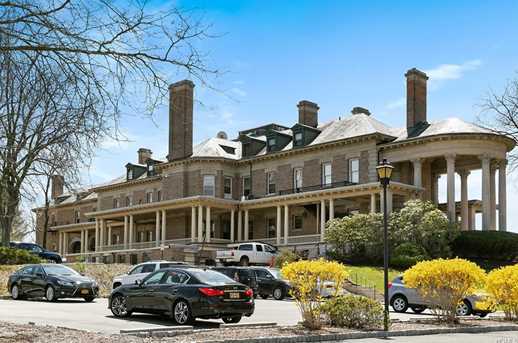 From The Listing….. The vision for Montebello Mansion was born in 1887 when New York financier Thomas F. Ryan purchased the grand home as his new summer residence. Perched on a hilltop with majestic views of the Ramapo Mountains, the estate was originally built in the 1860's and called Groesbeck Mansion. Within a few years, the house was torn down and Ryan hired famed American architect Stanford White – one of the era's most prolific architects and a partner in the influential firm McKim, Mead, & White. His clients were the most prestigious families of the day and he specialized in designing large country estates and high-end residential buildings in Manhattan. White built the elegant 44-room structure that included an electric elevator, 13-fireplaces, a private chapel, greenhouse, and bowling alley. In awe of the grandeur, Ryan changed the name to "Montebello" which in Italian means "beautiful mountain." Although modified internally over time, the original structure still stands there today, rich with history.
After Mrs. Ryan's death in 1917, Ryan divided the estate and in 1921 sold the main mansion to Edward Swann, New York City District Attorney. Just a few months later, Swann sold the property to the Archdiocese of New York, which used the mansion as a retreat site for St. Joseph's College and Seminary. In 1944, Suffern resident Gustav Mayer purchased the mansion. However, his plans to develop the property, possibly as a country club, never materialized, and the vacant mansion fell victim to vandals. Copper mining giant Phelps Dodge Corporation bought the dilapidated mansion and used it as their corporate records headquarters for the next 31 years. Then Gary Goldberg, founder and CEO of Gary Goldberg Financial Services, bought the property and after an extensive renovation, transformed it into his firm's headquarters and a state-of-the-art office park. Now, after 35 years, this extraordinary residence with 34,000 square feet (plus a finished, usable basement) is available for sale and ready for another corporate entity to call it home and be a part of the story.
Located in Suffern, NY, and surround by the scenic beauty of Tuxedo Park and Harriman State Park, the picturesque Montebello is uniquely situated between Westchester and Rockland Counties, easily accessible from the Palisades Parkway and New Jersey Turnpike.
Read and see more about this grand old mansion at…..
Montebello Mansion up for sale for $12M
Here is the listing with images of the mansion…..